Glionna Mansell Corporation Presenting the world's finest Classical, Digital and Digital-Pipe Organs
June 3rd 2016
Gordon D. Mansell Concert Organist
Toronto, Canada. Glionna Mansell Corporation announced today that Gordon Mansell, Toronto organist and music director at Our Lady of Sorrows Catholic Church in Toronto, will once again perform a European concert tour this coming August 2016. This will be his third tour to the Republic of Poland and second occasion to perform in the Baltic region. His itinerary includes three solo concerts with the first in Słupsk (Aug. 11) followed by a very special performance in the Fiftieth International Organ Music Festival at St. Mary's Cathedral (Aug. 12 – Koszalin) and the Cathedral Basilica of St. James the Apostle (Aug. 13 – Szczecin) shown in picture below.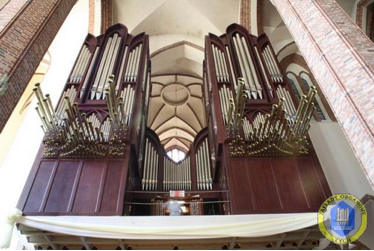 Gordon will perform two programmes. In Słupsk, the organ is a 33 stop, three-manual mechanical instrument from the Baroque-era with a recent restoration and new console. The repertoire will be entirely Baroque with works by Vincent Lűbeck, Domenico Zipoli, Girolamo Frescobaldi, Prince Johann Ernst IV, Johann Gottfried Walther and closing with Johann Sebastian Bach's monumental tribute to the Holy Trinity, Fugue in E flat major, BWV 552. The repertoire for two concerts at the larger Cathedral organs, (Koszalin: 50 stops, electro-pneumatic, three-manual, Szczecin: 66 stops, mechanical four-manual built in 2008) will present works by Jehan Alain, Nicholas Jackson, Elsa Barraine and Victor Togni, all 20th century composers with a distinct French character.
Gordon is Music Director and Titular organist at Our Lady of Sorrows Catholic Church in Toronto (Casavant mechanical organ, Opus 2805). As an organist and founder of MOSAIC Canadian Vocal Ensemble, Gordon has led his choir to perform concerts in Italy, including twice as principal choir at St. Peter's Basilica. While in Italy, the choir performed in the Basilica churches of St. Ignatius Loyola in Rome and Holy Trinity in Florence. In 2017 the choir will perform in Spain and Portugal. Mr. Mansell is Executive Producer and Artistic Director of ORGANIX CONCERTS, a wholly-owned subsidiary of Glionna Mansell Corporation and in this acclaimed international organ festival, Gordon has featured many of the world's finest performers from Canada, Poland, Italy, France, USA and United Kingdom. Gordon Mansell is also the Ontario dealer of the world's most respected digital organ builder, Allen Organ Company. Gordon's early music training was gained from attending as a student the Royal Conservatory of Music in Toronto and St. Michael's Choir School. Gordon started his organ studies at the age of ten with Peter Daly and by the time he was twelve years of age, started a professional career as a church organist. He has studied organ with William Wright and John Tuttle. Gordon Mansell holds a Bachelor of Science degree (1979) from the Rochester Institute of Technology, Rochester, New York. He also holds a Bachelor of Music (2006) and Master of Music degrees (2008) majoring in Organ Performance from the University of Toronto, Faculty of Music.