Glionna Mansell Corporation Presenting the world's finest Classical, Digital and Digital-Pipe Organs
Home
>
News and Events
> Andrew Michalewski selects the Allen French Terraced Q285 Heritage edition organ for his residence
July 14th 2014
Andrew Michalewski selects the Allen French Terraced Q285 Heritage edition organ for his residence
Andrew Michalewski in Toronto, Ontario has an impressive loft and has been looking for a very special and unique instrument. He found it with Glionna Mansell and Allen Organ Company and will be taking delivery of a new organ in November, 2013. Andrew's French Terraced console is a beautifully designed instrument that will be in a walnut console with maple and white accents.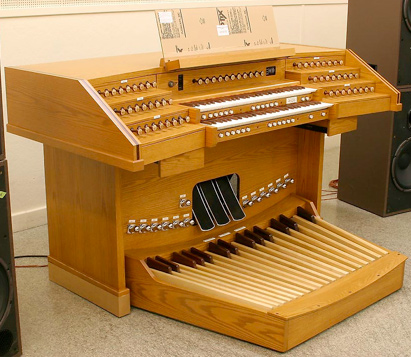 Q265 French Terraced
The smaller version in oak of what the Q285 will look like
This will be the first installation in the world of this beautiful 45-stop two-manual French terraced organ. This exciting instrument will showcase several unique features that will make it one of the finest examples of the highest quality of digital instruments installed by Glionna Mansell. Similar to all Quantum instruments, this will include 7 cohesive stop lists easily accessed from an on-board library. This is comparable to having the tonal character of seven different organs within one console. From Baroque and neo-Baroque (Arp Schnitger and Schlicker), English Cathedral and French (Cavaillé-Coll) to American Classic, Mr. Michalewski will have unprecedented creative flexibility in accessing a complete palette of tonal colours and pipe-organ sound. With its 7 channel expanded audio system, sound will be distributed through 8 speaker cabinets, including two large sub-woofers. The organ will also be pre-wired for a future antiphonal division.
Glionna Mansell Corporation President and Artistic Director, Gordon Mansell also said [that] "…similar to all new Allen organs of this profound quality, both seen and unseen, this organ will set yet another new benchmark for the industry and for residence organs in particular.
For more information regarding this or any other fine Allen organ product, please visit www.allenorgan.com or www.glionnamansell.com. You may also phone our President and Artistic Director, Gordon Mansell at, 416-769-5224, toll free: 1-877-769-5224.
- 30 -