Glionna Mansell Corporation Presenting the world's finest Classical, Digital and Digital-Pipe Organs

Glionna Mansell Corporation
represents Excellence in Organ Building...
Con Passione
Con Dedicazione e
Con Risultati
Gordon Mansell Bio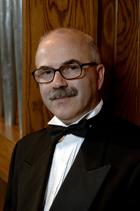 Gordon Mansell is Music Director and Organist at Our Lady of Sorrows Church in Toronto. Gordon is also the Ontario dealer of the world's largest organ builder, Allen Organ Company.

Gordon's early music training was provided by the Royal Conservatory of Music at the age of four and four years later at St. Michael's Choir School. Gordon began to show a fascination for the "King of Instruments" after hearing Victor Togni perform at St. Michael's Cathedral and at the age of ten, began studying the organ with his first teacher. By the time Gordon was twelve years of age, he started his professional career as a church organist.

Gordon holds a Bachelor of Science degree in Printing and Photographic Sciences (1979) from the Rochester Institute of Technology. He also holds a certificate in Information Technology from the University of Toronto (2001) and a Bachelor of Music (2006) and Masters of Music degree (2008) majoring in Organ Performance from the University of Toronto, Faculty of Music. He has studied choral conducting from Dr. John Tuttle, Dr. Doreen Rao and Dr. Lori-Ann Doloff. His organ teachers have been Peter Daly, William Wright and John Tuttle. Gordon has also had the privilege of participating in several masterclasses given by internationally acclaimed recitalists and educators including Dame Gillian Weir.

Gordon has a long professional career in business management, marketing and advertising and was a founding partner company of SMART Toronto, a technology advocacy organization. He also established Creative Folio III, an advertising and design agency and the Ingenuity Group, a technology management consultancy and 'think tank.' Gordon is co-producer and co-founder with colleague William O'Meara of ORGANIX CONCERTS. In 2006 Gordon and Bill founded this yearly month-long music festival to showcase the magnificent organ in solo and ensemble situations. The ongoing objective of ORGANIX has been to expand the awareness of the organ to the general public by programming exciting music and involving the broader music community. Gordon is also an executive of the Toronto Centre of the Royal Canadian College of Organists and a director of ORGAN HORIZONS, a concert series co-produced by RCCO - Toronto. He is also involved in developing The Glionna Mansell Foundation for Music Excellence.