Glionna Mansell Corporation Presenting the world's finest Classical, Digital and Digital-Pipe Organs
Allen Organ Product Lines
The Allen product line consists of the Chapel™, Protégé™ and Quantum™ series of classical, theatre and Digital-Pipe combination organs in addition to the very specially appointed Diane Bish Signature Series™. The Quantum product line offers the greatest flexibility in customisation and depending on the level of options, may fall under the Heritage™ banner. The Allen website allows a very exciting opportunity to design an instrument substituting various types of components towards the crafting of a very distictive console. Additionally, Allen produces Herald™ Speakers and the new industry leading touch-screen VISTA™ MIDI products. Allen also produces one-of-a kind custom organs under the Elite™ brand. In selecting an Allen organ, the decision you have made is one of sound spiritual and financial stewardship. Allen Organ Company continues to be managed by the founding family, seven decades later. Such a vibrant history creates stability and continuity that few companies in the music industry can claim. The company has no long term debt and over $ 1 million inventoried parts for earlier organs, should service require parts replacement.  No builder matches Allen's support record. Builders require financial strength and corporate stability for a long term customer commitment. Allen provides this commitment without hesitation.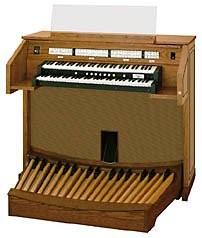 The Chapel™ Series delivers Allen sound and unrivalled affordability. Chapel™ is our newest and most competitive product and earns rave reviews for its superiority in all categories. Options include a Stoplist Library™ offering the flexibility of multiple and properly voiced specifications. Allen's patented Virtual Acoustics™ are available on some of the models while an advanced digital reverberation system is available on the smaller specification instruments. The Acoustic Portrait™ technology is Allen's exclusive sampled acoustics with convolution reverb. It sounds real because it is. By integrating sampled acoustics with high quality pipe samples, Allen offers "high definition" pipe organ sound. Of course, as in all Allen keyboard products, each note and each stop can be voiced. This insures that the organ provides optimal sound and tonal production according to the acoustics of each room.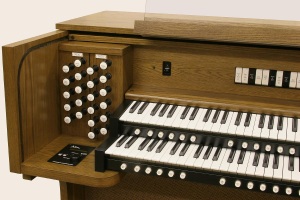 A Limited Edition Chapel model with mechanical drawknobs is now available. This edition is a Commemorative initiative marking the 40th anniversary of the first computer capture system with custom integrated circuits, bringing advanced console control capabilities to even modestly priced organs. Chapel organs offer advanced control systems, including generals and pistons in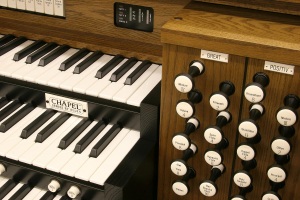 addition to Deluxe Moving Drawknobs, available in CF-15 (33 Stops, two-manual) and CF-30 (38 Stop, three-manual) versions. Allen's special Commemorative Models bring real pipe-organ sound and pipe-organ familiarity at un-heard-of-prices that any church, temple or home can afford.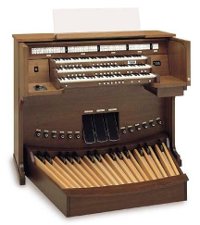 The Protégé™ Series represents a significant leap forward in presenting true pipe organ sound, advanced features and incomparable value. With premium Allen keyboards, Quad Suite™ and Acoustic Portrait™ plus optional expanded audio systems, Protégé™ is an industry leader. Protégé organs include premium Allen keyboards, Lumitch™ LED Lighted Capture tabs and Stoplist Library™ that include tonal palettes from Classic Allen (formerly referred to as American Classic) French, Baroque and English Cathedral organ building. This essentially enables four organs in one and is an excellent instrument to perform repertoire from across six-hundred years of composition and organ building of Europe and North America. Choose one of eight tunings and you will likely be hearing what Bach himself helped develop! To celebrate the 40th anniversary of the first digital organ, Allen has crafted two mechanical drawknob models. These are available and in a 50 stop (L331) and a 58 stop (L341) console. These two new Allen models offer exceptional value without any compromises.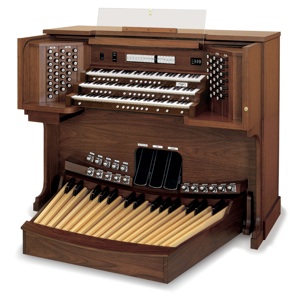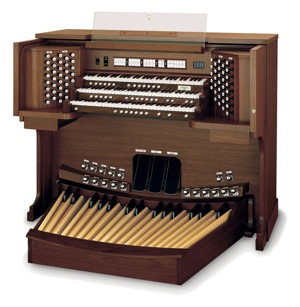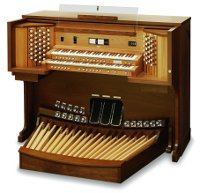 The Quantum™ Series is the organ of distinction. It is distinctive for its awe-inspiring pipe organ sound, its pipe organ touch and for its traditional pipe organ console design. Quantum™ has all the technological advancements that have made Allen organs superior products respected by organists and clergy throughout the world. With seven easily accessible tonal palettes, the credible performance of the vast repertoire that belongs to the organ is but a moment away. Whether the console is an English Cathedral, French terraced or has the usual diagonally and vertically placed mechanical stops, these organs are beautiful to look at and wonderful to hear. Quantum has a higher number of true audio channels enabling a crisper performance that comes closest to the action and tonal output expected from the finest of pipe organs. The real miracle is in the audio system. Multi-point audio surpasses any thought of stereo sound as it distributes notes and stops to multiple channels. Multipoint creates dimension for individual notes and voice stops that just cannot be achieved otherwise. The former name for this technology was Interleaving™ audio which continues to be available as an option on organs up to and including Q300D.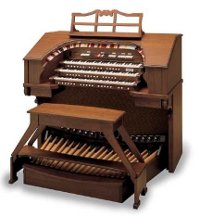 The Allen Theatre Organ Series is the benchmark for home or concert venue. Each organ has premium Allen keyboards, Horseshoe console/AGO pedalboard, Deluxe-Mechanical stop controls, Acoustic Portrait™, eight tunings, traps, illuminated stop rail, Real Xpression™, MIDI Local Off, and Console Controller™. Choose the Lyn Larsen Signature Series with the stop specifications designed by Mr. Larsen. The Walt Strony Signature Series has its specifications designed by world-renowned theatre organist, Walt Strony. Note-by-note voicing, tuning and regulation along with the accuracy of digitally-sampled tremulants and the spatial dimension of Allen's Acoustic Portrait™ provide all the reasons why Quantum™ Theatre Organs are taking the world my storm.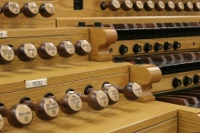 The Combination Digital-Pipe Organ offer new life to aging pipe organs. The console and relays often become unreliable in older pipe organs. The addition of a new Allen console and Allen solid-state relays to interface with the existing pipes makes a world of difference in the performance of the pipe organ. Also, the addition of digital voices and MIDI to expand the instrument's capabilities can enable an existing pipe organ to better meet modern music demands. The technology that is inherent with Quantum™ organs is inherent with Allen Digital-Pipe combination organs. The excitement of designing a console that will play pipes and digital voices is palatable, as it opens up new musical opportunities to address traditional and contemporary worship styles. The new console will function as "Command Central" and with this decision, a stewardship moment reveals itself. A worthy move has been made in dealing with that 'beast' up in the gallery or in the chancel.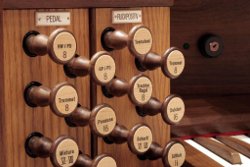 The Elite™ is the Gold Standard of Organ Building. Commitment to quality and attention to detail are both passion and obsession in the crafting of an Elite Organ. These exquisite instruments, were they never to play a sound, would still be works of art. The pleasure the eye derives from the physical beauty of an Elite console is only surpassed by the delight the ear receives from its sound. Few pipe organs produce similar results and no other digital organ can match Elite's attention to detail. Listen and see the Elite Opus II in the performance video and you will instantly understand the level of commitment that is in the Elite program. This program places the resources and expertise of the world's premier organ builder at the disposal of the world's finest organ designers. Each Elite organ is the embodiment of well-articulated musical ideals. Every console is a numbered Opus. Each Elite owner is rewarded with a world-class instrument of uncompromised excellence and exceptional beauty. A well-defined and cohesive tonal concept is at the heart of every Elite organ. Elite designers spend months making thousands of design considerations for each instrument to assure unique and exceptional tonality. Like the individual instruments of a fine orchestra, every stop of an Elite specification possesses distinctive individual character that also contributes to the formation of a well-knit ensemble. Elite instruments recreate pipe sound nuances with unprecedented attention to detail. From the bold dimension and grandeur of full organ to the minute details of wind chest airflow and organ chamber imaging, Elite sound captures the very essence and soul of the King of Instruments. Please see the video of the Elite Opus VII in action. Here are some additional images of the Elite as well as a recent installation in Roanoke, Virginia.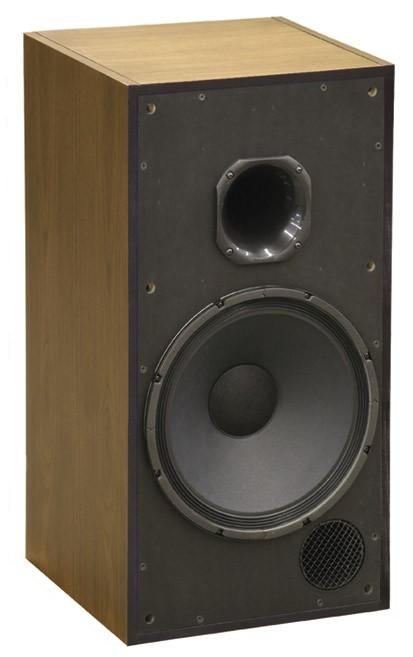 Herald™ Speakers are proprietary to Allen and are the result of intensive research and development activities at the Macungie plant. They are the veritable icing on the cake for every Allen organ. The effort that has produced Herald™ speakers acknowledges that organs have a dynamic range greater than any other musical instrument. This vast range absolutely depends on the titanium drivers that will produce sound on-demand, without compromising clarity or tonal integrity. The external speakers have the rapid response and efficiency to evenly spread sound throughout large spaces. Herald speakers produce the "long-throw" that large rooms demand and integral to achieving the pipe-organ sound expected from Allen organs.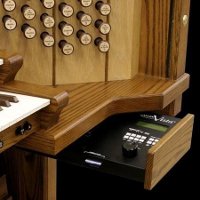 VISTA™ MIDI is a system that transforms the organ console into a command central to all the music possibilities any traditional or contemporary liturgy may seek for creative expression of music liturgy and is further described below in THE ORGAN AS COMMAND CENTRAL and in our Instructional Video page. Please see VISTA Tutorial and VISTA Demonstration Video. VISTA MIDI is now offered in an exceptionally intuitive touch-screen interface!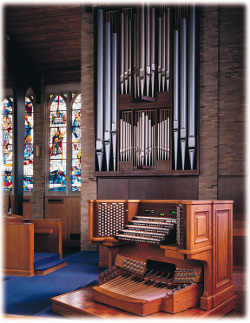 THE ORGAN AS COMMAND CENTRAL
Many churches are beginning to satisfy their music needs with the newest and the best of technological solutions. They are getting rid of their forty-year-old electric-tube or early analogue organs in favour of the finest "command central" digital organ installations possible. If they have unreliable pipe organs, then digital organ consoles are being installed to give the legacy instrument new life and vitality. These prized instruments are given a new breath of relevancy for the next generation.
Digital or digital-pipe configurations enable traditional and contemporary liturgy to take flight. They encourage the congregation in song, and because of the inherent tonal and percussive resources that are now available, the result is that the music flexibility excites younger church members to participate with more vigour. These instruments are exceptional and convincing examples of next-generation sound engineering. The latest high-tech church solution will recreate the pipe organ in sound along with the aural or spatial sensation typical of a cathedral environment. If this were not enough, the organist enjoys the look, touch and feel of a traditional instrument with the added features that technology can provide. It is a cost-effective solution to gain a dynamic instrument that will lead the congregation while being an integral collaborator with guitar, drums and other instrumentalists and choirs in traditional hymns and contemporary anthems or praise songs. The organ and the organist become the hub of activity bringing all these different styles and music ministry components into a cohesive and respectful liturgy.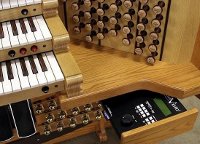 The "must-have" tool for building excellence in music liturgy is the Allen Organ Company Vista™ which provides the MIDI sounds and features organists need in today's dynamic world of worship music. Vista's multiple MIDI ports provide quick and easy control of several sound sources, simultaneously. Each port is independently assignable to any organ piston and can be ready to create the sound of an orchestra, play piano and organ duets from the same console, or access sounds that are perfect to lead contemporary liturgy. Please also refer to our on-line VISTA Tutorial.

Allen's industry leading MIDI is now offered with a touch-screen interface! A quick and easy way to make voice changes "on-the-fly".